Digital Cultural Development
HOW THEY LET THEIR EMPLOYEES DIGITALLY DESIGN THE PROCESS OF CULTURAL CHANGE.
After the corporate culture analysis (e.g.Denison Culture Analysis) the work really begins. How does your company manage to translate the identified optimization potentials into concrete measures and implement them? We have the answer – but not just one.
Either we introduce your culture change "offline" with you in the form of employee workshops or you let our online tool for change projects be used. You decide which variant best suits your company organisation. Perhaps even a mixture of both approaches makes sense for you.
Following the bottom-up principle, we identify success factors and solution ideas together with your employees in workshops and then define and prioritise change measures. We use proven methods that we are happy to teach your employees to enable them to moderate workshops. On the basis of the developed action plans, your employees can carry out their team projects independently. The results from the workshops also include cross-team projects with concrete measures that help you to bring about targeted changes throughout the entire company.
Variant HRpuls Online-Tool
Together with our partner HRpuls, we have developed an online version in addition to the team workshop version. This enables your employees to carry out change projects independently using this professional idea and project management tool. To this end, your employees can submit solution ideas in real time, which can be viewed and evaluated by every employee. Thus, your employees decide for themselves which change measures are most relevant for your digital culture change. In addition, the tool supports your employees in project management for the independent execution of projects.
This is our approach for a successful, participative change process: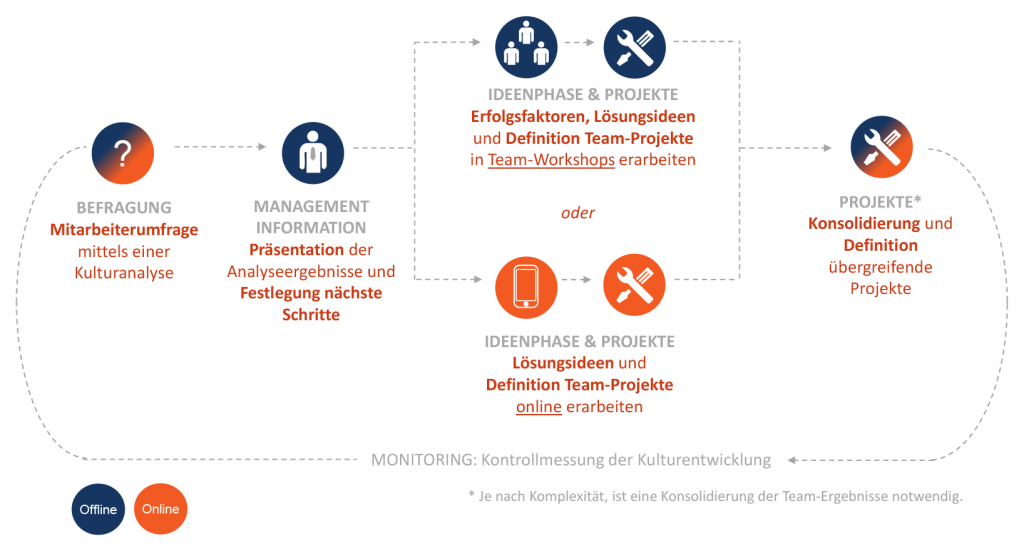 Advantages of the variant: Team Workshops
Advantages of the variant:
HRpuls Tool